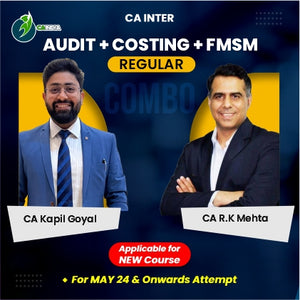 Product Details
Must go through each point carefully before purchase.
The given fee is non-refundable.
Faculty
CA R. K. Mehta
Subject
Costing and FM-SM
Device Change


Not Allowed 

CLASSES CAN BE PLAYED ON ONE LAPTOP ONLY.

(DESKTOP, PROJECTOR, TV & ANY EXTERNAL DISPLAY IS NOT ALLOWED)

Material

THE MATERIAL IS AS PER MAY 2024 and NOV. 2024 ATTEMPT. MATERIAL IS FULLY UPDATED AS PER THE CA INTER GR-2 Cost and MGMT. ACC. and FM-SM (NEW COURSE).

Language

Hindi and English

Lectures

Cost - 100, FM-SM - 80

Hours

Cost - 300, FM-SM - 240

Views and Validity

1.5 Views and 6 Months

Technical

The student will be needed an internet connection for FIRST TIME ONLY SOFTWARE INSTALLATION (MAXIMUM FOR 10 MINUTE – You can also use mobile hotspot connection as well, for internet process.). Classes can be played on SINGLE LAPTOP ONLY. We can switch the laptop only for once if you find a problem on the same laptop than no limit for this.

System Requirement

A) Minimum system requirements

1. Operating System: Windows 8, 8.1, Windows 10, Windows 11
2. Processor: Core 2 Duo 1.5 GHz and above, Celeron Dual Core 1.5 GHZ and above, Intel
Atom Quad Core 1.5 GHZ and above.
3. Ram: 2 GB free memory

B) Before starting software activation:

1. Make sure your system is virus free. If in doubt scan with a good anti-virus or format system
before proceeding.
2. Ensure All audio, video and system drivers are installed. If in doubt consult your computer
dealer or local computer shop.
How

In the off chance that you are facing difficulty in starting the videos on your own, you can email us at rkmehtacaclasses@gmail.com or call:9354056956

If after activation, your system needs to be formatted for any reason, please contact us below BEFORE formatting your system, to help ensure playback of the videos after formatting.

Must NOT DO:

DO NOT RENAME FILES on the Google-Drive and Pen drive folder. Doing so will make the videos Unplayable.
 

Particulars

Details

Faculty
CA Kapil Goyal
Key Extention

Isn't allowed. And in exceptional cases , key change prices will be the exact half amount of the Product price.

Nature of Course 

Very Detailed With All Real Life Practical Examples - Regular Course

Subject

Paper 6: Auditing & Assurance

Applicability

For Nov 2023, May/Nov 24 ONWARDS

Study Material

Regular course Video Lectures,
Big 4 Work Paper Lectures
Audit Module I & 2(Color)
Question Bank & MCQ Book

Excell Course

Chart book 

Total Number of Lectures and hours
45 to 50 "Audit Lectures" with total duration of 2 Hours Each
Views-Validity
1.5 Views-12 months , 2.0 Views- 12 months (options during purchase)
Language
Hindi- English Mix
Concept Query 
Sir's Direct whatsapp number will be given for subject related query with books
Device Change

Classes will run in single device. You are not permitted to change the device. Additional charges applicable for changing the device.

Technical Details/Classes run on 

Classes can be run on Laptop, Desktop ,Android Phone/Tab


Windows
1) Laptop & Desktop both support.
2) Minimum processor Pentium D.
3) Minimum Ram 2 GB.
4) Windows 7,8 & 10 all support (windows 7 home basic version not support)
5) MAC System doesn't support


Android
1) Minimum Ram 3GB (Recommended 4GB)
2) Minimum Android Version 7.0 & above
3) Phone should have good performance

 
Choosing a selection results in a full page refresh.
Press the space key then arrow keys to make a selection.